With the Comment Generator, Hellixia retrieves Dimension Names and the related Comments from ChatGPT and adds them automatically to the Node Comment.
Create a node representing the subject of interest, e.g., "Judea Pearl."

Select

Toolbar > Node Creation Mode

​

Move your pointer to the desired location to place your new node on the

Graph Panel

.

Give the node a meaningful name representing the subject to be studied, i.e., "Judea Pearl."

You can also add a

Node Long Name

and a

Node Comment

to provide more information.

Select the newly-created node, and then select

Main Menu > Hellixia > Comment Generator

, which brings up the

Comment Generator

window.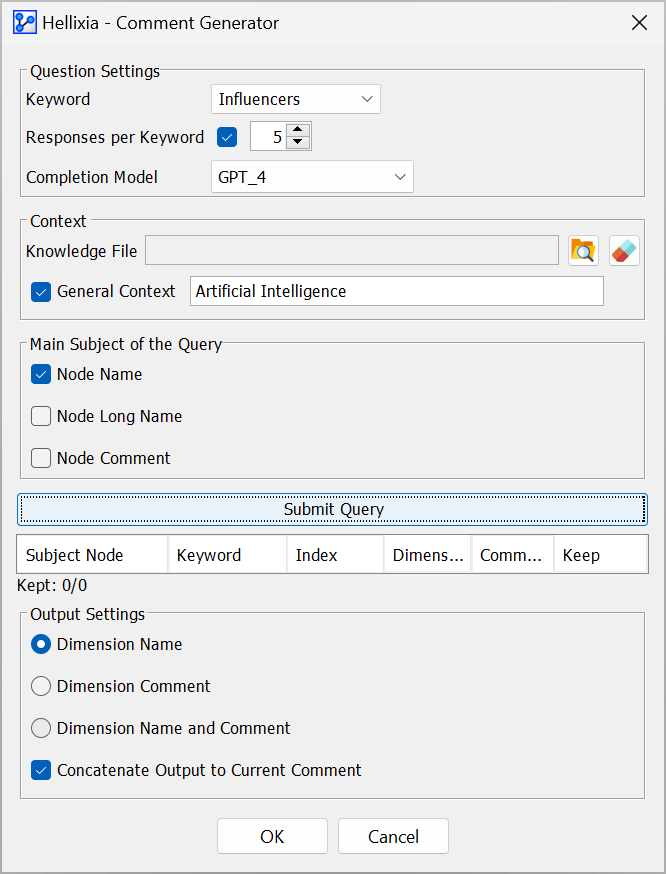 There is a range of settings you need to specify in the Comment Generator window:

Specify the

Keyword

from the dropdown menu.

If needed, stipulate the maximum number of responses per

Keyword

.

Select the

Completion Model

from the dropdown menu, e.g., GPT_35 or GPT_4.

Open a

Knowledge File

, if available.

Provide a

General Context

for the query. In our example, use "Artificial Intelligence."

Under

Main Subject of the Query

, select all fields that contain relevant information for the query, i.e.,

Node Name

,

Node Long Name

, and

Node Comment

. Check all that apply. Both the

Node Long Names

and

Node Comments

are optional properties. If they're selected but not defined for a given node, Hellixia will use the

Node Name

by default.

Click

Submit Query

, and Hellixia retrieves the responses from ChatGPT and lists them in a table at the bottom of the

Comment Generator

window.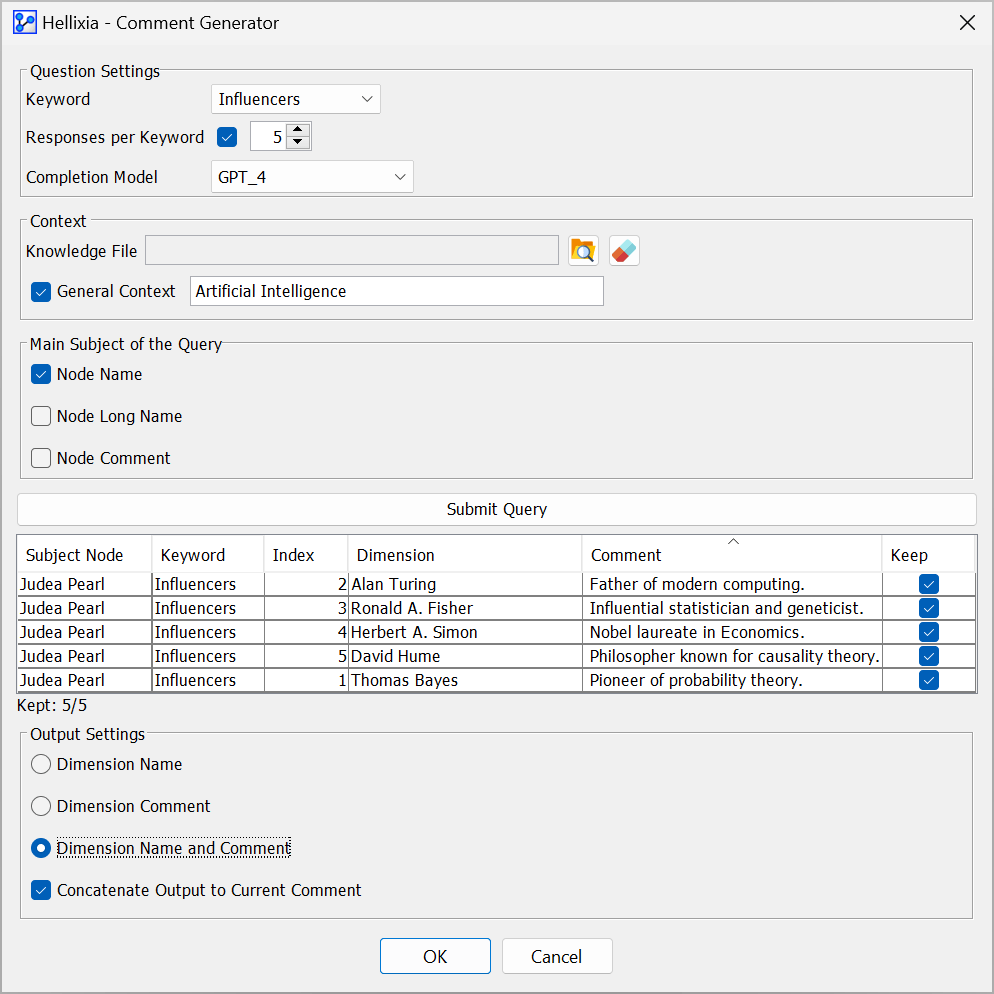 The

Subject Node

column displays the main subject of the query.

The

Keyword

column lists the keyword used for the

Dimension

retrieved in that row.

The

Index

column assigns an index to each

Dimension

retrieved for a

Keyword

.

The

Comment

column further describes the

Dimension

retrieved.

The

Keep

column indicates which

Keyword/Dimensions

row to keep.

Under

Output Settings

, specify what part of the results table will be added to the

Node Comment

.

Checking

Dimension Name and Comment

and

Concatenate Output to Current Comment

, you will obtain a

Comment

like this, which you can see in the

Node Editor

.